Smart Listing - Capital - Saratoga Region of New York Bed & Breakfasts and Inns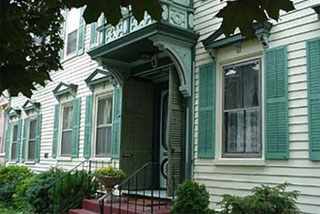 The English Garden
at the Ellice Sanders House Est.1764
205 Union Street
Schenectady, NY 12305
518-630-6760
Located in the heart of the Historic Stockade Distinct of Schenectady, the home was built in 1775 by wealthy fur traders of their day. The English Garden was built as a Federal and in the 1800's Victorian architecture was added. The home is decorated with fine antiques throughout and can accommodate dinner parties, small intimate weddings in the Ball Room or Tea Room. The Tea Room has the original wood beams from 1775 and plank flooring. The Inn is a 5000 square foot home with many hidden features or nooks and crannies. Host is accommodating to suggestions and can supply linens, silverware, flowers etc. to accommodate your budget.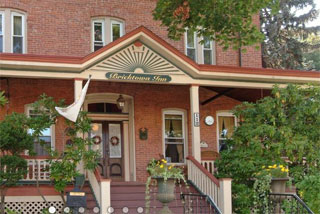 Bricktown Inn
112 Hudson Avenue
Haverstraw, NY 10927
845-429-8447
Located in the historic Village of Haverstraw, once the brickmaking capital of the world. Built in the mid-1800's, this brick mansard colonial offers 4 rooms with private baths and all modern amenities while maintaining a beautiful Victorian decor. Close to many Hudson Valley areas of interest.
Innkeepers: Michelle & Joe Natale
For reservations, please call between 8:30 a.m. and 8:00 p.m. Deposit required, minimum stay on in-season weekends.
Email address
Visit our website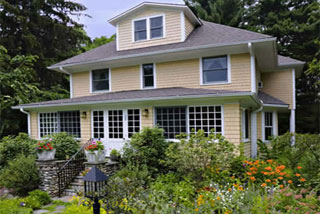 Honored Guest Bed & Breakfast
20 Hunt Rd
Hillsdale, NY 12529
866-783-7871
Where You'll Feel at Home Among Friends. Gourmet breakfasts & afternoon tea, nightly turn down service and the best beds around.
Innkeeper: Bob & Lauren Dunn
Email address
Visit the Web Site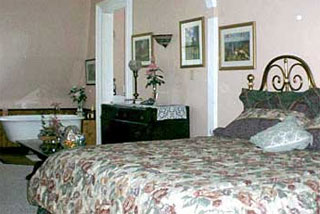 Hudson City Bed & Breakfast
326 Allen Street
Hudson, NY 12534
518-822-8044
Located on the best quiet residential street in Hudson, just an easy three-block walk from Amtrak and two short blocks from Warren Street, enjoy the area's art galleries, fine dining, specialty stores and, of course, one of the largest quality antiques centers in the Northeast. Breakfast specialty: homemade buttermilk waffles.
Innkeeper: Barry Butterfield
Email address
Visit the Web Site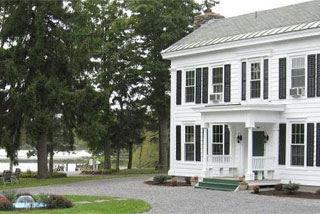 Mariaville Lake Bed & Breakfast
172 Batter St.
Mariaville Lake, NY 12137
518-864-5252
Five unique guestrooms, all with private bath and lake views. Minutes from I-88 and I-90 and near Schenectady, Albany and Saratoga, Mariaville Lake is just a 2½ hour drive from New York City. Unique lakeside lodging at an independent inn with a great vibe.
Innkeepers: Rick and Lorrie Runnels
Visit the Web Site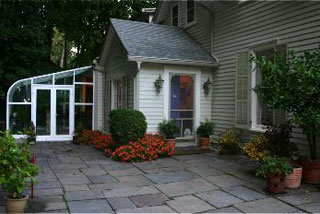 RiverView Bed and Breakfast Inc.
P.O. Box 22
Piermont, NY 10968
845-353-0778 or 800-643-7225 (tri-state)
A charming, historic Dutch Colonial, circa 1835, private home, hosted bed and breakfast is situated on two secluded acres overlooking the Hudson River. The renowned, English actor Rex Harrison, who starred next to Audrey Hepburn in "My Fair Lady" lived here in the early 1950's. A large peaceful organic garden is host to an assortment of birds and wildlife.
Innkeeper: Alida Whelehan
Email address
Visit our website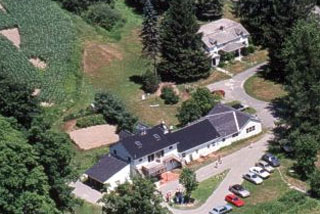 Shaker Meadows
P.O. Box 20
14209 Route 22
New Lebanon, NY 12125
518-794-9385
Couples, groups, reunions, families and pets are comfortable in our casual accommodations. Three guest suites, plus an 18th century farmhouse house up to 24 guests. Eleven miles to Tanglewood in summer, eleven miles to Jiminy Peak Ski Resort in winter. Full kitchens, A/C, decks, full breakfast served.
Innkeepers: Jean and Sean Cowhig
Email address
Visit the Web Site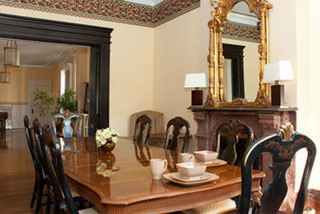 State Street Mansion B&B
281 State Street
Albany, NY 12210
518-462-6780
In the heart of Albany's Historic Center Square district, State Street Mansion is one of the earliest examples in Albany of a private dwelling in the Neo-classical style of architecture. Restored in 1991 as a private questhouse, we are registered as an historic landmark with the Historic Albany Foundation.
Email address
Visit the Web Site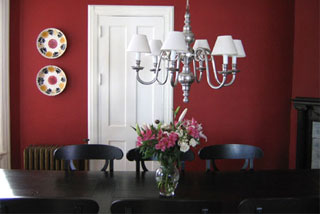 The Country Squire B&B
349 Union Street
Hudson, NY 12534
518-828-0958
The Country Squire B&B is located in the heart of downtown Hudson, NY. This recently renovated Queen Anne Victorian features 5 guest rooms all with private baths. Spacious, clutter-free and welcoming.
Email address
Visit the Web Site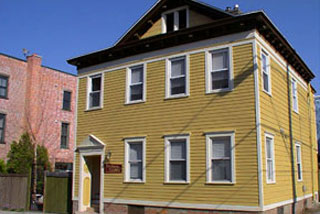 The Inn at Ca'Mea
12 City Hall Place
Hudson, NY 12534
518-822-0005
Newly renovated four room Inn with private baths, queen size beds, TV and wireless Internet, two rooms have balconies over looking the garden that connects it to Ca'Mea Ristorante located in the center of Hudson close to Amtrak, open all year round and offering discounts at Ca'Mea Ristorante.
Email address
Visit the Web Site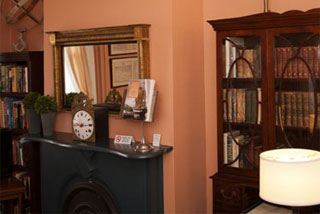 Union Street Guest House
349 Union Street
Hudson, NY 12534
518-828-0958
Built in 1830, in the Greek Revival Style. We are located near the best in antiques and fine dining, right off of the Courthouse Square. Only a short drive to some of the best historical sites, wineries and cultural events Columbia and Berkshire Counties can offer. We don't serve a sit-down breakfast, however we do provide coffee, tea and morning and afternoon fare.
Email address
Visit the Web Site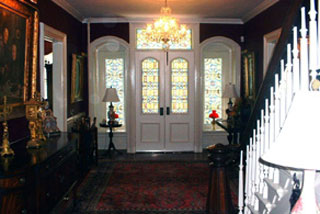 Van Schaack House B&B
20 Broad Street
Kinderhook, NY 12106
518-758-6118
Built in 1785, the Van Schaack House has retained the beauty and elegance of its time. A spacious foyer and a spectacular stairway are an inviting path to your accommodations.
Proprietor: John V. Hannam
Email address
Visit the Web Site
Other listings in Capital - Saratoga Region
Albany
Pine Haven B&B
531 Western Ave
Albany, NY 12203
518-482-1574
The Morgan State House
393 State Street
Albany, NY 12210
518-427-6063
Altamont

Altamont Old Stone House Inn
1160 Berne-Altamont Rd.
Altamont, NY 12009
518-861-0200
Appel Inn
Rt 146
Altamont, NY 12009
518-861-6557
Averill Park
The Gregory House Country Inn & Restaurant
Rt 43 PO Box 401
Averill Park, NY 12018
518-674-3774
Ballston Spa
Lewis House Bed & Breakfast
38 East High Street
Ballston Spa, NY 12020
518-884-9857
Inn at Ballston Spa
49 W High St
Ballston Spa, NY 12020
518-885-1113
Berlin
Sedgwick Inn
Rt 22, Box 250
Berlin, NY 12022
518-658-2334
Cambridge
Rice Mansion
16 W Main St.
Cambridge, NY 12816
518-677-5741
Canaan

The Inn at Silver Maple Farm
Route 295
Canaan, NY 12029
518-781-3600
Chappaqua
Crabtree's Kittle House
11 Kittle Rd
Chappaqua, NY 10514
914-666-8044
Croton On Hudson
Alexander Hamilton House
49 Van Wyck Street
Croton On Hudson, NY 10520
(914-271-6737
Hillsdale
Bell House Bed & Breakfast
9315 State Route 22
Hillsdale, NY 12529
518-325-3841
Inn At Green River
9 Nobletown Rd
Hillsdale, NY 12529-5712
518-325-7248
Hudson
Bungalow Hudson
249 Union St.
Hudson, NY 12534
516-502-5045
Hudson Merchant House
10 South Front St.
Hudson, NY 12534
(516-828-9200
Mount Merino Manor
4317 Route 23
Hudson, NY 12534
518-828-5583
Putnam Station
The Lake Champlain Inn
428 County RT 3
Putnam Station, NY 12861
518v547-9942
Salem
Bunker Hill Inn
Bunker Hill Rd
Salem, NY 12865
518-854-9339
Saratoga Springs
Batcheller Mansion Inn
20 Circular St
Saratoga Springs, NY 12866
518-584-7012

Brunswick B&B
143 Union Ave
Saratoga Springs, NY 12866
518-584-6751
Six Sisters B&B
149 Union Ave
Saratoga Springs, NY 12866
518-583-1173
The Inn at Saratoga
231 Broadway
Saratoga Springs, NY 12866
518-583-1890
The Springwater Inn
139 Union Ave
Saratoga Springs, NY 12866
518-584-5051
The Westchester House B&B
102 Lincoln Ave
Saratoga Springs, NY 12866
518v587-7613 or 800-581-7613
Union Gables B&B
55 Union Ave
Saratoga Springs, NY 12866
518-584-1558
Washington Inn
South Broadway
Saratoga Springs, NY 12866
518-584-9807
Scotia
Glen Sanders Mansion
One Glen Avenue
Scotia, NY 12302
518-374-7262
Stephentown
Berkshire Mountain House
Wyomanock Rd
Stephentown, NY 12168
518-733-6923
White Plains
Soundview Manor
283 Soundview Ave
White Plains, NY 10606
914-421-9080
| | |
| --- | --- |
| Innkeepers desiring a listing can find information on the Innkeepers page. | Search INNSMART |