Smart Listing - Finger Lakes Region Bed & Breakfasts and Inns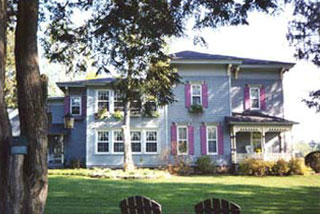 Alice's Dowry Bed & Breakfast
PO Box 284, 2789 Route 26
Cincinnatus, New York 13040
607-863-3934
Innkeepers: Mary & Alan Adrian Jr.
Alice's Dowry B&B is a fully restored Victorian listed on the National Register of Historic Places. Located in the southeast corner of New York State's famous Finger Lakes Region, we are short scenic drives from Cayuga and Skaneateles Lakes and the major tourist towns of Ithaca and Skaneateles. The area's renowned universities Cornell, Colgate and Syracuse are all under one hour drives from us.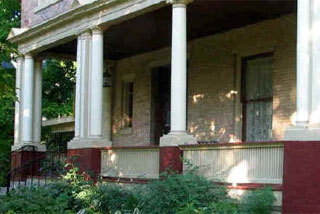 Barrister's Bed & Breakfast
56 Cayuga Street
Seneca Falls, NY 13148
315-568-0145 or 800-914-0145
Barrister's Bed & Breakfast offers you all the comforts of home in a gracious historic setting. Five unique bedrooms, all with private baths. Whirlpools, beautiful carved fireplaces and stained glass windows. Near wine trails, state parks, lakes, outlets and within walking distance of the town's museums, shops, restaurants and canal.
Innkeepers: Judith Austic & Ralph Sinicropi
Email address
Visit the Web Site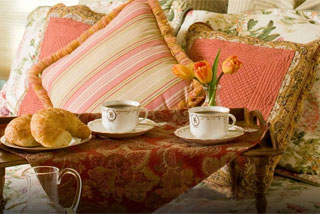 Edward Harris House Bed & Breakfast Inn
35 Argyle Street
Rochester, NY 14607
585-473-9752 or 800-419-1213
On the National Register of Historic Places, located in the heart of the historic Arts/Cultural District of downtown Rochester. this circa 1896 mansion is set in the urban village setting of East/Park Avenue. The Inn has been fully restored to its original beauty, adding the amenities of the finest hotels, complete with wifi, cable TV , AC, fireplaces and en suite baths. Enjoy the gentle serenity of this boutique style Inn after a long day of work or play. Walk one short block to area shops, bistros and fine dining. Just two blocks to area museums and galleries - the Inn offers the relaxation of neighborhood living with the most convenient of city locations.
Email address
Visit the Web Site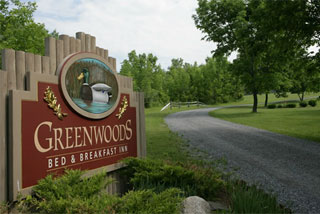 Greenwoods B&B Inn
8136 Quayle Rd
Honeoye, NY 14471
585-229-2111 or 800-914-3559
Unique architecture influenced by the Great Adirondack camps of yesteryear. Only a 30 mile drive from Rochester to this Finger Lakes retreat.
Email address
Visit the Website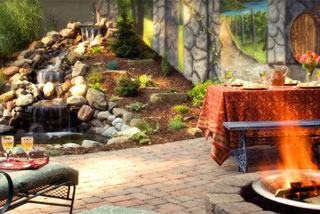 Halsey House B&B
2057 Trumansburg Rd.
Trumansburg, NY 14886
607-387-5428 or 800-387-5590
Upscale surroundings with your comfort our top priority. Four guestrooms with private bathrooms, pillowtop mattresses and many other amenities. Just minutes from Ithaca, the Cayuga and Seneca Wine Trails, Cayuga Lake, Taughannock Falls, Cornell University, Ithaca College and Watkins Glen.
Your Hosts: KC Christopher and Mitch Clarke
Email address
Visit the Web Site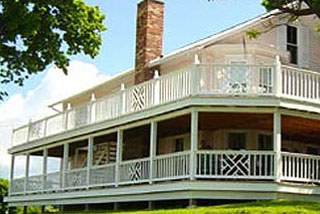 Magnolia Place Bed & Breakfast
5240 Route 414
Hector, NY 14841
607-546-5338
Enjoy a country breakfast on our gracious porch overlooking Seneca Lake. sit by a fire in the privacy of your own room or luxuriate in one of our oversized jacuzzi tubs. Spend the day experiencing Finger Lake Wine Country, where the wines are of premier quality. Relax, Rejuvenate at Magnolia Place.
Your Hosts: Theresa Kelly-Remmers & Ted Palevsky
Email address
Visit the Web Site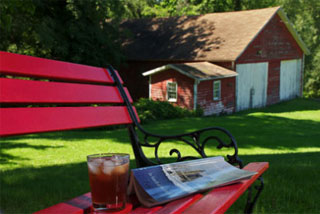 Maxwell Creek Inn Bed & Breakfast
7563 Lake Rd
Sodus, NY 14551
315-483-2222
Historic 1846 Cobblestone House on the Seaway Trail half way between Rochester & Oswego overlooking Maxwell Bay & Lake Ontario. Surrounded by Beechwood State Park and apple orchards. Peaceful and Relaxing. Nearby hiking, biking trails, beach, golfing, boating, fishing, museum, gift shop, farm markets and more. Private baths, A/C, TV in some, full gourmet breakfast.
Innkeeper: Belinda McElroy
Email address
Visit the Web Site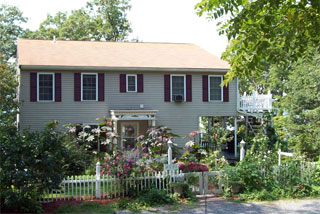 Paradise On The Lake B&B
4136 High Banks Road
Geneva, NY 14456
315-585-6760
Step out of your fast paced, hectic world and into the serene, peaceful world of PARADISE ON THE LAKE BED AND BREAKFAST. You can enjoy the quiet beauty and restful ambiance of Seneca Lake. Relax on the large wrap around decks. Join in the activities on the dock, in or out of the water, choosing from swimming, canoeing, fishing , or sun bathing on the lakeside party deck with a good book. Or you might enjoy a cool beverage in the large hot tub and watch some of the most beautiful sunsets you've ever seen.
Innkeeper: Peggy & Garey
Email address
Visit the Web Site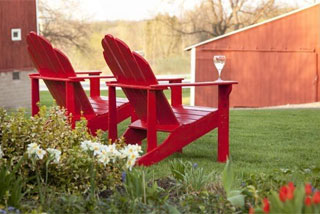 Springdale Farm Bed & Breakfast
242 County Road 9
Victor, NY 14564
585-964-5952
Located in the beautiful rolling hills of Victor, enjoy a rural setting on ten acres just minutes from one of the Finger Lakes most beautiful lakes, Canandaigua Lake. We are very close to the Historic Erie Canal System with miles of biking trails & locks for boating. One of Rochester's finest golf courses, Raven Wood Golf Course, is just 2 miles down the road; Casa Larga Vineyard is nearby.
Innkeeper: Eileen Cash
Email address
Visit the Web Site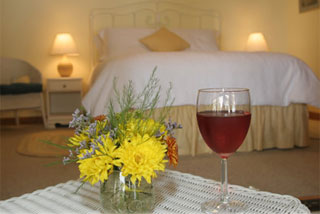 Sunrise Landing Bed and Breakfast
4986 Apple Road Extension
Dundee, NY 14837
607-243-7548
Pristine accommodations, nestled on a wooded hillside on the west shore of Seneca Lake; our small country inn is a perfect spot for a romantic getaway, a respite with friends, or lodging for an extended stay. Enjoy a full breakfast each morning and suites that include a refrigerator and cable TV, guests have access to a large dock and waterfront, paddleboat and canoe and much more...
Innkeeper: Barbara Schiesser
Email address
Visit the Website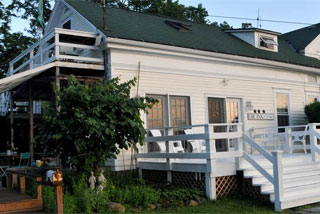 The Inn at City Lights
1319 Mecklenburg Rd.
(Rt.79 West)
Ithaca, NY 14850
607-227-3003
The Inn at City Lights in the Finger Lakes Region of Central New York boasts scenic surroundings and sits across the valley overlooking Cornell University and Ithaca College. Built as a Greek Revival farmhouse in 1863, the restored B&B sits on seven acres with a sunken garden and picnic areas. Step outside the back door to jog or cross-country ski. Browse the onsite antiques and consignment shop. Stay in an intimate guest bedroom or spacious multi-room suite with a private entrance, sitting and dining space. A healthy and satisfying breakfast is served daily in the country kitchen. Visit local attractions that include a science and nature center, Corning Museum of Glass and Watkins Glen; or take a wine tasting tour through popular vineyards.
Innkeeper: Colleen Shuler
Email address
Visit the Web Site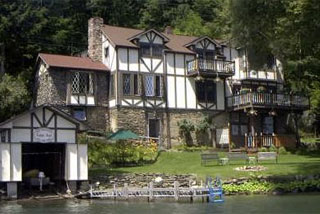 Tudor Hall B&B on Keuka Lake
762 E Bluff Dr
Penn Yan, NY 14527
315-536-9962
Elegant English Tudor on the shore of beautiful Keuka Lake featuring a private beach, terraced gardens, and breakfasts by candlelight. Experience romantic elegance and personal pampering when you visit our lakeside home.
Your Hosts: Dr. Don & Priscilla Erickson
Email address
Visit the Web Site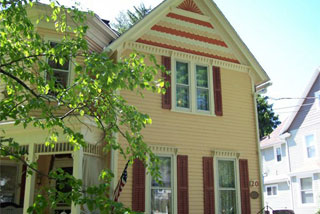 Twenty Wood Lawn Bed & Breakfast
20 Woodlawn Avenue
Fairport, NY 14450
585-377-8224
A pleasant five minute walk to the Erie canal in Fairport. We invite you to enjoy real "Grandma's House" coziness with a Victorian flair. Make yourself comfortable in our guest rooms and enjoy our English Cottage gardens and decorative porches.
Hosts: Bill & Connie Foster
Email address
Visit the Web Site
Other listings in the Finger Lakes Region
Adams Basin

Adams Basin Inn
Bed & Breakfast
425 Washington St
Adams Basin, NY 14410
585-352-3999
Alpine
Fontainebleau Inn
2800 Rt. 228
Alpine, NY 14805
607-594-2008
Auburn
Springside Inn
Rte 38 South, Box 520
Auburn, NY 13021
315-252-7247
Aurora

Aurora Inn
Main St, PO Box 37
Aurora, NY 13026
315-364-8888
Dills Run B&B
PO Box 302
Aurora, NY 13026
315-889-5007
Avon
Avon Inn
55 E Main St
Avon, NY 14414
585-226-8181
The White Oak Bed & Breakfast
277 Genesee Street
Avon, NY 14414
585-226-6735
Bloomfield
Abner Adams House
2 Howard Avenue
Bloomfield, NY 14469
585-657-4681
Branchport
Gone With The Wind on Keuka Lake
453 W Lake Rd, Rt 54 A
Branchport, NY 14418
607-868-4603
Brockport
Gingerbread ManorB&B
6590 Lake Road
Brockport, NY 14420
585-494-1795
The Victorian B&B
320 S Main St
Brockport, NY 14420
585-637-7519 or 800-836-1929

The White Farm B&B
854 White Road
Brockport, NY 14420
585-637-0459
Brooktondale
Brookton Hollow Farm B&B
18 Banks Road
Brooktondale, NY 14817
607-273-5725
Burdett
The Red House Country Inn
4586 Picnic Area Rd
Burdett, NY 14818
607-546-8566
Campbell
Halcyon Place Bed & Breakfast
11 Maple Lane
Campbell, NY 14821
607-583-4311
Canandaigua
1792 Filigree Inn
5406 Bristol Valley Road (Rt. 64)
Canandaigua, NY 14424
585-229-5460
1795 Acorn Inn
4508 Bristol Valley Road
Canandaigua, NY 14424
585-229-2834
1840 Inn on the Main
176 N. Main Street
Canandaigua, NY 14424
585-394-0139 or 877-659-1643
Bed & Breakfast at Oliver Phelps
252 N Main Street
Canandaigua, NY 14424
585-396-1650
Bella Rose Bed and Breakfast
290 N Main Street
Canandaigua, NY 14424
585-393-9937 or 800-508-2134
Inn on the Main
176 N. Main Street
Canandaigua, NY 14424
585-394-0139 or 877-659-1643
Morgan Samuels B&B Inn
2920 Smith Rd
Canandaigua, NY 14424
585-394-9232
Sutherland House B&B Inn
Rt 21s 3179 Bristol Rd
Canandaigua, NY 14424
585-396-0375 or 800-396-0375
Candor
The Edge of Thyme
6 Main St
Candor, NY 13743
607-659-5155 or 800-722-7365
Turkey Trot Acres
188 Tubbs Hill Road
Candor, NY 13743
607-659-7849
Cayuga

Eagle Rock Charters B&B
899 Rt. 90
Cayuga NY, 13034
315-889-5925
Cincinnatus
Misty Valley Bed and Breakfast
1689 Route 41
Cincinnatus, NY 13040
607-863-3243
Cohocton
Button's Creekside Farm B&B
9705 County Route 9
Cohocton, NY 14826
607-566-2406
Corning
Hillcrest Manor
227 Cedar St
Corning, NY 14830
607-936-4548
Rosewood Inn
134 East First Street
Corning, NY 14830
607-962-3253
Villa Bernese
11881 Overlook Dr.
Corning, NY 14830
607-936-2633
Dryden
The Candlelight Inn
49 West Main Street
Dryden, NY 13053
607-844-4321 or 800-579-4629
Elbridge
Fox Ridge Farm B&B
4786 Foster Rd
Elbridge, NY 13060
315-673-4881
Fairport
The Clematis Inn
2513 Penfield Road
Fairport, NY 14450
585-388-9442
Fayetteville
Beard Morgan House
126 E Genesee St
Fayetteville, NY 13066
315-637-4234 or 800-775-4234
Freeville
Bountiful Blessings Bed and Breakfast
147 Lick Street
Freeville, NY 13068
607-898-3370 or 877-224-8422
Geneseo
Temple Hill B&B
114 Temple Hill Street
Geneseo, NY 14454
585-243-0180
The Annabel Lee
20 Main St
Geneseo, NY 14454
585-243-9440
The Pachelbel Inn
27 Prospect Street
Geneseo, NY 14454
585-243-2797
Geneva
Geneva On The Lake
1001 Lochland Road
Geneva, NY 14456
315-789-7190 or 800-3GE-NEVA
Gentle Giants B&B
Whitney Road, PO Box 723
Geneva, NY 14456
315-781-2723 or 866-204-2768
Gorham
Gorham House Bed & Breakfast
4752 East Swamp Road
PO Box 43
Gorham, NY 14461
585-526-4402
Groton
Ben Conger Inn
206 W Cortland St
Groton, NY 13073
607-898-5817
Hammondsport
Amity Rose
8264 Main St
Hammondsport, NY 14840
607-569-3408 or 800-982-8818
Black Sheep Inn
8329 Pleasant Valley Road
Hammondsport, NY 14840
607-569-3767 or 877-274-6286
Blushing Rose
11 William Street
Hammondsport, NY 14840
607-569-2687 or 866-569-2687
J S Hubbs Bed And Breakfast
17 Sheather Street
Hammondsport, NY 14840
607-569-2440
Pleasant Valley Inn
7979 Rte. 54
Hammondsport, NY 14840
607-569-2282
Village Tavern Inn
On the Village Square
Hammondsport, NY 14840
607-569-2528
Hector
The Inn at Seneca Springs
4881 St. Rt. 414
Hector, NY 14841
607-546-4066
The Inn At Chateau Lafayette Reneau
PO Box 132
Hector, NY 14841
607-546-2062 or 800-4NY-WINE
Windswept Farms B&B
3934 Tichenor Rd
Hector, NY 14841
607-546-2864
Interlaken
Glass Magnolia B&B
8339 N. Main St.
Interlaken, NY 14860
607-532-8356 or 866-532-8356
Ithaca

Log Country Inn Bed & Breakfast of Ithaca
P.O. Box 581
Ithaca NY 14851
607-589-4771 or 800-274-4771
The Coddington Guest House
130 Coddington Rd
Ithaca, NY 14850
607-275-0021
The Godwin House Bed & Breakfast
1184 Ellis Hollow Road
Ithaca, NY 14850
607-277-0747
The Hound and Hare
1031 Hanshaw Road
Ithaca, NY 14850
607-257-2821 or 800-652-2821
The William Henry Miller Inn
303 North Aurora Street
Ithaca, NY 14850
607-256-4553
Thomas Farm
136 Thomas Road
Ithaca, NY 14850
607-539-7477 or 877-599-7477
Lansing
Rogue's Harbor Inn
2079 East Shore Drive
Lansing NY 14882
607-533-3535
The Federal House
175 Ludlowville Road
Lansing, NY 14882
607-533-7362 or 800-533-7362
Lodi
Wine Country Cabins Bed and Breakfast
8744 Lower Lake Spur
Lodi, NY 14860
607-582-7025
Lyons
Peppermint Cottage B&B
336 Pleasant Valley Rd.
Lyons , NY14489
888-997-1998 or 315-946-4811
Marcellus
Blakeslee House
3708 South Street Rd.
Marcellus, NY 13108
315-673-2881
Montour Falls
'bout time Bed & Breakfast
277 Steuben Street
Montour Falls, NY 14865
607-210-4079
Mount Morris

Allegiance Bed & Breakfast
145 Main St
Mount Morris, NY 14510
585-658-2769
Mumford

Genesee Country Inn
948 George St
Mumford, NY 14511
585-538-2500 or 800-697-8297
Naples
Bristol Views B&B
6932 County Rd #12
Naples, NY 14512
585-374-8875
Monier Manor B&B
154 N. Main Street
Naples, NY 14512
585-374-6719
The Vagabond Inn
3300 Sliter Rd
Naples, NY 14512
585-554-6271 or 877-554-6271
Newfield
Noble House Farm B&B
215 Connecticut Hill Rd.
Newfield, NY 14867
607-277-4798
Newark
Vintage Gardens Bed & Breakfast
310 High Street
Newark, NY 14513
315-331-6045 or 877-331-6045
Ovid
The Driftwood Inn
7401 Wyers Point Road
Ovid, NY 14521
607-532-4324 or 888-532-4324
Owego
Pumpelly House Estate
44 Front Street
Owego, NY 13827
607-687-0510
Palmyra
Liberty House Bed & Breakfast
131 West Main Street
Palmyra, NY 14522
315-597-0011
Thomas Galloway House at Paragon Farm
993 Cornwall Rd.
Palmyra, NY 14522
315-597-6742
Penn Yan

Finger Lakes Bed & Breakfast
128 South Avenue
Penn Yan, NY 14527
315-536-8070
Fox Inn
158 Main St
Penn Yan, NY 14527
315-536-3101 or 800-901-7997
Los Gatos Bed & Breakfast
1491 Route 14A
Penn Yan, NY 14527
315-536-0686
Merritt Hill Manor
2756 Coates Rd.
Penn Yan, NY 14527
315-536-7682
Trimmer House B&B
145 East Main Street
Penn Yan, NY 14527
315-536-8304 or 800-968-8735
Wagener Estate B&B
351 Elm St
Penn Yan, NY 14527
315-536-0010
Phelps
The Yorkshire Inn
1135 Route 96
Phelps, NY 14532
315-548-YORK
Pine City
Rufus Tanner House
60 Sagetown Rd
Pine City, NY 14871
607-732-0213 or 800-360-9259
Prattsburgh
Feather Tick N Thyme
Bed & Breakfast
7661 Tuttle Road
Prattsburgh, NY 14873
607-522-4113
Taylor Farm Bed & Breakfast
6554 Cook School Road
Prattsburgh, NY 14873
607-522-5155
Rochester
428 Mt. Vernon
428 Mount Vernon Ave
Rochester, NY 14620
585-271-0792 or 800-836-3159
A B&B at Dartmouth House
215 Dartmouth Street
Rochester, NY 14607
585-271-7872 or 800-724-6298
Ellwanger Estate
Mt. Hope Avenue
Rochester, NY 14620
585-546-5103
Reen's Bed and Breakfast
44 Magee Avenue
Rochester, NY 14613
585-458-9306
The Inn on Broadway
26 Broadway St.
Rochester, NY 14607
585-232-3595
Rock Stream
Lake House Bed & Breakfast
46 Hunt Road
Rock Stream, NY 14878
607-243-5637
Romulus
Yale Manor
563 Yale Farm Road
Romulus, NY 14541
315-585-2208
Scottsville
Beautiful Valley Guesthouse
68 Main Street
Scottsville, NY 14546
585-889-9730
Skaneateles
Arbor House Inn
41 Fennell St.
Skaneateles, NY 13152
315-685-8966 or 888-234-4558
Aunt Louise's Lake House
2498 E. Lake Road
Skaneateles, NY 13152
315-685-5864 or 888-443-2648
Frog Pond Bed & Breakfast
680 Sheldon Road
Skaneateles, NY 13152
315-685-0146
Gray House B&B
47 Jordan Street
Skaneateles, NY 13152
315-685-5224
Hobbit Hollow Farm
3061 West Lake Road
Skaneateles, NY 13152
315-685-2791
Hummingbird's Home B&B
4273 W. Genesee Street
Skaneateles, NY 13152
315)685-5075 or 866)207-1900
Lady of the Lake
2 West Lake St.
Skaneateles, NY 13152
315-685-7997 or 888-685-7997
Sodus Point
Carriage House Inn
8375 Wickham Blvd
Sodus Point, NY 14555
315-483-2100 or 800-292-2990
Silver Waters Bed & Breakfast
8420 Bay Street
Sodus Point, NY 14555
315)483-8098 or 800)645-2664
Sterling
Maplegrove Bed & Breakfast
(and Little Wool Boutique)
1523 State Road (104A)
Sterling, NY
315-947-5408
Syracuse
Bed & Breakfast Wellington
707 Danforth St
Syracuse, NY 13208
315-471-2433 or 800-724-5006
The Dickenson House on James
1504 James Street
Syracuse, NY 13203
315-423-4777 or 888-423-4777
Trumansburg
Copper Beacons B&B
3883 County Rd 143
Trumansburg, NY 14886
607-592-5547
Juniper Hill Bed & Breakfast
16 Elm Street
Trumansburg, NY 14886
607-387-3044 or 888-809-1367
McLallen House B&B
30 McLallen Street
Trumansburg, NY 14886
607-387-3892

Taughannock Farms Inn
2030 Gorge Road
Trumansburg, NY 14886
607-387-7711
The Inn at Gothic Eves
112 East Main St. (Rt. 96)
Trumansburg, NY 14886
607-387-6033
Watkins Glen
Blossoms Bed and Breakfast
403 South Franklin Street
Watkins Glen, NY 14891
607-535-4130
Cherry Orchard Bed & Breakfast
PO Box 145
Watkins Glen, NY 14891
607-535-7785
The Manor at Castel Grisch
3380 County Road 28
Watkins Glen, NY 14891
607-535-9614
Waterloo
The Gridley Inn B&B
36 W. Main St.
Waterloo, NY 13165
315-539-5192
| | |
| --- | --- |
| Innkeepers desiring a listing can find information on the Innkeepers page. | Search INNSMART |